ARU: January 2nd, 2011
First things first: Welcome to a new year. 
Second Helpings: It's time to play a nice little game of "catch-up". I missed writing for the blog on New Years (hope you can forgive me), so I'll offer a brief recap of the festivities that occurred while I was away.
Fiesta Bowl: Oklahoma 48,  Connecticut 20. This is what you get when the winner of the Big East is a somewhat overrated program. Don't get me wrong—UConn had a phenomenal season. They've been around for a short period of time, and have actually won four straight bowl games.
But this is the big time. This would be UConn's first BCS bowl game—and it showed. Oklahoma's Landry Jones threw for 429 yards. 429. No need to say anything else.
Outback/Capital One Bowl/Gator Bowl: Alabama 49,  Michigan State 7… Florida 37,  Penn State 24… Mississippi St. 52,  Michigan 14. Here are three excellent examples of just how dominating the SEC can really be. Let's be honest here: Alabama deserved a better bowl game than this. Losing to #2 ranked Auburn (by 1 point) doesn't mean they should be penalized. I personally believe the Crimson Tide could've matched right up with TCU/Wisconsin.
As for Florida, they're young, but they'll develop. Urban Meyer picked up his last win as a Florida Gator. I'd like to think we'll be seeing much more of him on ESPN.
If the SEC teams didn't have to play teams inside of their conference every year, I wouldn't doubt that 2 or 3 teams could have a legitimate shot at playing for some of the top bowl games. I digress.
Ticketcity Bowl: Texas Tech 45,  Northwestern 38. The Red Raiders' Taylor Potts (QB) accounted for five touchdowns and threw for 369 yards. He completed 43 of his 56 passes. Hats off to Northwestern as they allowed 552 total yards of offense, and still managed to stay in the game.
Rose Bowl: TCU 21,  Wisconsin 19. Quite possibly the best played bowl game this year. The best defense takes on the best offense. We found out today what happens when an unstoppable force meets an immovable object.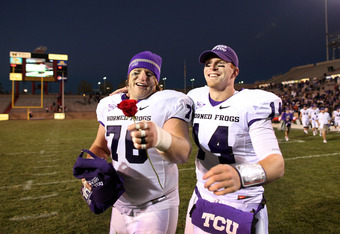 The force was strong with TCU.
TCU's Andy Dalton threw one touchdown, and ran for another. He had 247 all-purpose yards. Play of the game: Tank Carder blocking a two-point conversion passing attempt to seal the victory with two minutes left in the game.
On a side note: If someone was going to block my throw to win the Rose Bowl for the other team—I'd want them to be named, Tank.
This marks the second time TCU has gone undefeated in their season. Makes you wonder when a team like this will get their stab at the National Championship.
No bowl games on the slate for today.
NCAA BB: Syracuse 70,  Notre Dame 58. Syracuse moves to 15-0 with a convincing win over 15th ranked Notre Dame.
Arkansas State 81,  WKU 73. Trey Finn went 10 for 16 from the field, and tacked on 30 points to help boost the Red Wolves over the Hilltoppers. WKU played (and will continue to play) one man down-much more on this later.
Elsewhere in sports: MLB—Derrek Lee signs one-year deal with Orioles. Okajima rejoins Red Sox for one year.
Just took a look at the 2013 Hall of Fame candidates for MLB. Barry Bonds and Roger Clemens top the list. Something's just not right.
…if these guys can get in, then what about Pete? (Pete Rose)
NFL: This is the "who cares?" week. Week 17. Since nobody submitted their predictions in to me, I'll treat myself to a nice steak dinner. Thanks to all.
Back to basketball. Brandon "Snap" Peters has been ruled ineligible to play the rest of the basketball season due to grades. 
Excuse me? Does anyone see a problem with this?
The kid's a freshman. I'm quite positive he's not enrolled in any three, or four-hundred level classes. Where was the tutoring for this student throughout the first semester? Why wasn't this brought to the table earlier this season/pre-season? Where was the athletic-academic coordinator, Dixie Mahurin, through all of this? Driving away in her red Corvette?
The transition from high school to college is a tough one-especially if you play a sport. The demand for you is so high inside of your classes/on the court that it becomes difficult to choose which must be more important.
I'll bet walk-on, Mike Gabbard, would've loved to have that basketball scholarship-and would have gladly stayed academically eligible.
Now, on to some better basketball teams. UK 78,  UofL 63. Brandon Knight and Josh Harrellson shined bright at the Yum Center in Louisville Friday night. They posted 25 and 23 points, respectively.
The SEC, however, has one lone team inside of the Top-25 (#12 UK). This will pay-off huge dividends for the Wildcats, but at what cost towards March/April? Is a team that loses some to good opponents more prepared than a team that wins all of their games?
Louisville has some work to do if they want to keep their ranking in the Big East. They still have to play (in scheduled order): #8 Villanova, #4 UConn (twice), #9 Georgetown, #15 Notre Dame, #5 Syracuse and #6 Pittsburgh. 
…It's going to be a tough road.
Speaking of Pittsburgh. Pitt fired their new hired coach Mike Haywood on a domestic violence charge. Haywood wasn't received too kindly by fans and boosters, because of his only coaching experience being at a mid-major school (Miami-Ohio). This is a case where one slip-up results in unemployment. 
Hope you're caught up.
Until tomorrow.